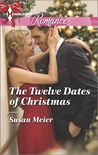 The Twelve Dates of Christmas by Susan Meier
When entrepreneur Ricky Langley offers Eloise Vaughn the help she needs, in exchange for her attending twelve Christmas parties as his date, she can't refuse. Yes, Ricky's handsome, and devastatingly charming, but this is about business. If only her racing heart would get the message!
Ricky has his own reasons for hating Christmas. But with each date that passes Eloise opens his eyes to the spirit of the season…and opens his heart to a totally different future….
My rating: 3 of 5 stars
An interesting trope, rich businessman Ricky Langley asks Eloise Vaughn to be his date to twelve events during the Christmas holiday. I really liked the premise, it was set up nicely and both characters had redeeming qualities. It's a squeaky clean romance with just a bit of sexual tension between the hero and heroine to keep it interesting. However, there was something missing that didn't allowed me to fully connect to the story and then it sort of all came together very quickly at the end with no real justification or feeling of how the two got to their happily ever after so fast. Overall, it was a decent story- a nice Christmasy read.
I received a complimentary copy of The Twelve Dates of Christmas from the publisher via Netgalley in exchange for an honest review.
You can find The Twelve Dates of Christmas on Amazon here